Getting this error when I try to install TotalSpaces in Catalina. SIP is disabled. Downloaded latest version.
Any ideas? Thanks.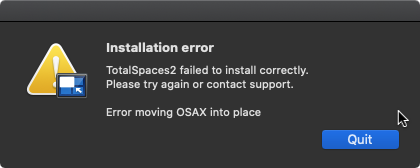 Thanks, Stephen,
It's on my office iMac and I'm away for a few days. Will check as soon as I get back.
Well, I got back in the office today. Catalina was not working well so, after 2 hours, I decided to restore my Mojave backup. Will stay with that for the near future. Since TS is working well with that, no immediate problem.
Thanks for your help.
Tony
I did some update combo over the past few days on Mojave. Safari 13 was most recent, and I think some os update from last week. This caused my TS 2 to stop loading. I could run it, but it wouldn't show a desktop number in the menu bar and I got the failed to start due to dock permission error.
I uninstalled and re-installed all the 2.7.x versions. No luck. I just installed 2.8.4 and now it works again.
I'm not touching anything anymore.

Thanks!